Residential Move
Our moving service covers everything you need for your residential move!
You can choose the services that suit your needs, ranging from a comprehensive turnkey package to just a moving truck and driver. Whether it's a small studio apartment or a detached house, we ensure that you can move to your new home effortlessly and efficiently.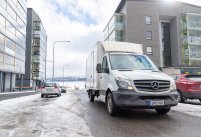 Turnkey Solution
Our comprehensive turnkey package ensures a stress-free move, whether it's a detached house or a small student apartment!
Vehicle + Driver
This product package includes a moving truck and a driver. Assistance with carrying the items will be provided by the customer.

Explore our moving tips
What should be considered during a move?