Affordable moving service
Would you like to know how much your apartment or office move would cost?
We offer affordable prices for moving student studios, detached houses, and office spaces according to your preferences.
Factors affecting the price of the moving service
Additionally, you can choose whether you want our packing and unpacking services included in the package. The number of movers and the duration of the move determined by these factors will determine the final price of the service. The offer also clearly specifies any additional charges for moving boxes and other moving supplies.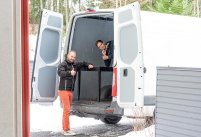 Information about pricing
Below you will find example prices for the moves we have already done, but since every move is unique, you can get a more accurate price by requesting a quote from us.
Studio apartment
Square meters: 27m2
Number of rooms: 1
Moving distance: 3,5km
Hours: 2h
Price: 255 €
(min. charge 3h)
Two-room apartment
Square meters: 46m2
Number of rooms: 2
Moving distance: 8km
Three-room apartment
Square meters: 57m2
Number of rooms: 1
Moving distance: 20km
Four-room apartment
Square meters: 78m2
Number of rooms: 4
Moving distance: 30km
Detached house / 5 rooms
Square meters: 100m2
Number of rooms: 5
Moving distance: 26km
Turnkey Moving Package
The turnkey moving package is suitable for you if you want your move to be convenient and worry-free. The package includes a moving truck, a driver, and the right number of skilled movers for your move, who will carry your belongings both to the truck and to your new home. We provide moving boxes and, if desired, packing materials as well. If you're not sure how many boxes or packing materials you'll need, don't worry – the Moving Service will take care of it.
If you want an even more comprehensive package, you can utilise our packing and unpacking services or decide which items you want us to pack for you. Even larger household items can be made move-ready in a day or two, so you don't have to spend your own free time packing or living among boxes for weeks. Our unpacking service also makes your life easier by getting your belongings in place faster.
Request a price estimate for your move
Relocation examples above are indicative price estimates, and if you want a more accurate quote, you can contact us by phone, email, or by submitting a contact request.
To accurately calculate the duration and price of your move for a quote, it is recommended that you provide us with as detailed information as possible about the conditions of your move. For example, if you are moving to the sixth floor of an apartment building without an elevator, carrying the items through the stairs will take considerably more time than using an elevator. Additionally, if you have particularly fragile, valuable, or heavy items, their transportation requires more precision and attention.
Packing and unpacking Service by Muuttopalvelu
When you choose the packing and unpacking service as part of our turnkey package, the package price includes not only the cost of labor but also all the materials and supplies we use for the move. The prices of the materials used are itemized in the quote.
In packing and protecting your belongings, we use materials such as: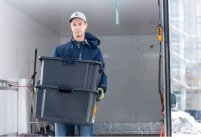 We are careful to ensure that your furniture remains intact throughout the move.
When you entrust us with packing your belongings, we take care to:
Unpacking is often one of the most time-consuming parts of a move: when all your furniture, from coffee tables to mirrors, is carefully packed in their own protective materials, unpacking them and recycling the packaging materials takes a surprising amount of time. With our unpacking service, you'll have time for hobbies and other meaningful activities in the days following the move.
Move with Vehicle + Driver Package
If you want to pack your belongings yourself and have assistance for carrying, you can choose the Auto + Driver package from the Moving Service, which includes a moving truck and a driver. All our drivers are careful and skilled, and you don't have to worry about the safe transportation of your belongings because the driver's job is to drive the truck, load and unload the items, and provide guidance if necessary. Our drivers are also familiar with your area, so they can determine the appropriate routes themselves.
We have moving trucks of different sizes, so there is definitely a suitable option for your needs. Before the move, we always ensure that the moving truck is the right size for your move. This can be done, for example, by measuring your largest item and checking if it fits in the truck. Sofas or beds are often the largest items in a home.
Loading the truck always starts from the back wall. Heavy and easily breakable items, such as washing machines, are securely fastened in place with tie-down straps during the journey. The moving truck is loaded as tightly as possible, placing smaller items in the gaps left by larger furniture.
When we lift your belongings into the truck, we ensure that even the most delicate surfaces remain protected. For example, tables prone to scratches are never loaded into the truck without protection.
Request a quote from us for a move that suits your needs.
Proper Moving Boxes Make Moving Easier
When you have prepared for the move carefully, moving day stays comfortably relaxed and stress-free. You can ensure this by reserving enough high-quality moving boxes that can be stacked.
Use durable moving boxes
If you choose one of our moving packages and pack your belongings yourself, you will have access to Muuttopalvelu's durable plastic moving boxes, in which you can pack even the heaviest items without worry. High-quality moving boxes can also significantly speed up the move because when all the boxes are the same, they are easy to stack, and moving them with hand trucks is more convenient.
Fill the moving boxes up to the handle holes
Remember to fill the moving boxes only up to the handle holes so that they can be carried and stacked conveniently. Leave the top box in the stack slightly empty, so nothing falls out when moving the boxes. To expedite the move, you can pre-stack the boxes in stacks of four.
We always calculate in advance how many moving boxes your belongings will need for the move. It is advisable to have one box per square meter of your home. This way, you won't run out of boxes during the move, and you'll avoid extra stress towards the end.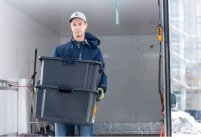 Label the contents of the boxes well
It is a good idea to label the contents of the boxes with tape on their sides so that the items end up in the right place in your new home. The labels are made on the long side of the box so that they are visible even when the boxes are stacked.
Ensure that boxes stay close together during transport
When loading the moving truck, it is a good practice to ensure that boxes going to the same room stay as close together as possible during transport. This makes unloading the truck easier at the destination, and your belongings can be put in their places more quickly after the long moving day.