Instructions for business move
Maintaining operational readiness throughout the entire moving process is crucial for business relocations.
The key to this is preparation and careful planning. We recommend creating a relocation plan and scheduling the move during a quieter period for the business.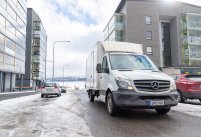 A move plan may include, for example: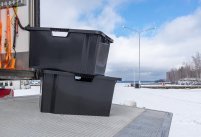 Experienced moving professional
We recommend choosing a company with experience in business relocations and effective communication. For example, you can request a free assessment visit to the new premises from us. We can provide an estimate of the number of moving boxes needed and offer packing and protection instructions.
Provide essential quantities, such as square footage, the number of offices and staff, the amount of items to be packed, the pathways during the move (floor plans, room numbers), and any items to be disposed of or recycled during the relocation.
It is also important to inform employees of all relevant information about the move. This includes essential details regarding work execution, such as the move date, introduction to the new workspaces and other facilities, tasks to be performed and their schedule, and transportation arrangements to the new premises. The point of contact for the move can communicate all this information to the employees and ensure everyone is informed.
During the move, the customer should ensure that pathways and loading/unloading areas are clear and available for the movers. As a customer, you don't need to worry or stress, as the move is always coordinated in collaboration with our professionals.
When each piece of furniture and box is labeled carefully, for example, "ELLI EXAMPLE, OFFICE SUPPLIES, OFFICE 3, 2ND FLOOR," the move proceeds more smoothly.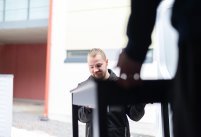 Office mover's checklist: